THIS WEEK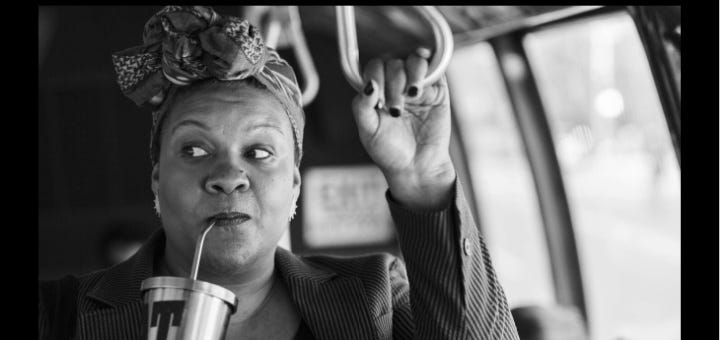 We're wrapping up in a Comfy to watch the Spinal Tap and West Wing get-out-the-vote reunion specials this week and then diving into Radha Blank's "The Forty-Year-Old Version" and the Social Distance series. The fly-on-your-head remix is our new jam. Hmmm, Halloween idea. The pandemic has us DIY nesting, getting deals on used furniture, and discovering the joy of paper planners. On Blacktober and the Black art remaking our culture. Newman! LOL at the 52 stages of insomnia and the alternate reality of famous writers in lockdown. Barbie explains racism. Susan Orlean on how to dress for work when you never leave home. For a good time, call. The significance of "I'm Speaking." The United States of Dolly Parton. The three people you meet when you don't like Schitt's Creek. A happiness expert offers some helpful coping tips. How Jane Fonda is prepared for this moment. Listen to Nobel Prize winner Louise Glück read her poems.
(Photo: Jeong Park/Netflix)
---
OBSESSED: Magic Spoon Cereal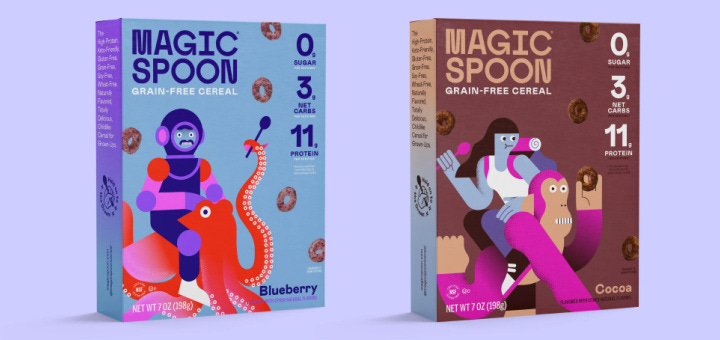 I loved cereal as a kid. The psychedelic, sugar-tastic, crunchitude of Lucky Charms, Count Chocula, Cinnamon Toast Crunch, Golden Grahams, Life — even the not-very-exciting Grape Nuts. Half the fun was examining the box as you slurped up your milk. Prizes inside and games on the back. Easy crosswords. Dorothy Hammil gazing at you proudly from the Wheaties box. But you become an adult and cereal is not in the list of things that are good for you — you trade Fruit Loops for yogurt, oatmeal, or egg whites and turkey bacon. SAD!
Turns out Magic Spoon, which I learned about from an episode of Amy Schumer Learns to Cook, is everything I loved about cereal as a kid — from the taste to the Peter Max-like box illustrations — without the crap. It's low carb, high protein, 110 calories, and nothing artificial. There's also, amazingly, no sugar; they use Stevia, monk fruit extract and allulose, which, so far, my sensitive stomach can tolerate. Magic Spoon comes in a bunch of flavors but my favorites are cocoa, blueberry, and frosted. I'm eager to try their always sold-out peanut butter.
At $39 for a case of four boxes, it's not exactly cheap, but it makes for a delicious, fun, and easy pandemic-era meal. And you won't have a massive sugar migraine afterwards. Score!
— Margit Detweiler
---
TueNight 10: Faith Adiele
("Me in one of my favorite Marimekko dresses goofing off in front of one of my favorite murals in San Francisco's Mission District," says Faith Adiele. Photo credit: Ronald Palmer; Mural credit: 1998 Mosaic mural of Aztec goddess Tonantzin by Colette Crutcher.)
Basic bio: Faith Adiele is a travel memoirist and essayist, teacher and host, storyteller and speaker who likes to say YES! She was a writer for A World of Calm (HBO Max), and is teaching two upcoming classes.
Beyond the bio: Last year for my sabbatical, I brought a one-way ticket to Europe and told my husband I'd be back in no less than 100 days. It was the kind of spontaneous travel I did in my 20s, so it felt terrific to do it as a grown-ass lady, with greater personal power and a rich bank of historical and cultural references to pull from.
What makes you a grown-ass lady? One evening in Italy, a young woman staying at my AirBnB asked to make dinner together. This very accomplished traveler, who could have been out partying, was asking me about life and career, and texting her friends to look me up. And I realized that she saw me as knowledgeable and my ordinary little tales as wisdom. I remember thinking, Oh wow, she thinks I'm grown!
1. On the nightstand: Water carafe, Lavender cardamom lip balm, artificial tears, estrogen cream (the downside of grown-assery), highlighter and pens, tiny notebook with husband's handwritten wedding vows, fish-shaped nail clipper.
2. Can't stop/won't stop: Traveling the world and dragging home handmade textiles and earrings.
3. Jam of the minute: Lady Donli's Corner is catchy, as well as a primer on Nigerian music and cinema. The video by Shaun Kalu is a Nollywood-style mini-film celebrating women and Nigeria's young #MeToo movement. Janelle Monáe's Turntables is a political anthem with amazing video footage meant to inspire and rally us for this very moment.
4. Thing I miss: Themed dinner parties on long tables that last long into the night. Living in a real neighborhood and stoopin' with my neighbors.
5. '80s crush: Roland Gift, frontman for the Fine Young Cannibals.
6. Current crush: Everybody associated with Afropunk.
7. Latest fave find: Matching facemasks and headwraps made of Ankara fabric. African fashion is killing it right now, so a pandemic ain't nothing.
8. Last thing I lost: What haven't we lost under the current regime? Good thing my name is Faith.
9. Best thing that happened recently: After seven straight months of co-hosting BIPOC Writing Party, a free weekly virtual writing community that Serena W. Lin and I co-founded in response to the pandemic and Black Lives Matter, we decided to hand over to the members and walk away. The community cheered our decision to focus on our own writing and rallied to put on an amazing celebration, at which Serena totally surprised me. She had written a beautiful testimonial about working together AND met up with my husband to give him a bottle of champagne from a black woman owned winery. While I and 60 folks on Zoom were sobbing at her speech, he snuck up behind me and popped the cork. It was one of the most beautiful moments I've ever experienced.
10. Looking forward to: A fat book contract, hugging people, international travel.
---
STORY: Silly Things People Have Said to Me When I Tell Them I'm Not Having Kids
From the archives — one of our all-time favorites.
By Tamar Anitai
"I love my friends' children. Because I don't have to take care of them. Their cuteness is there to fulfill my need to see cute things. I don't expect them to behave for me, and they don't expect 18 years of dinner from me. I see this as a good setup."
(Psst: Want to write for us? Pitch us here!)
---
Thanks for helping us get out the motherf@#&ing vote last week, TueNighters! We wrote more than 1000 postcards and raised $2000 for Fair Fight. You rock!